Cabo Pulmo--human population 111
There's one general store, one cantina, no paved roads, no church, no school, but four restaurants in the village: El Caballero is by far the best value, offering tasty Mexican fare, breakfast, lunch and dinner. Hang at Tito's Bar, next to Pepe's Dive Center for beers in the late afternoon. One of Tito's sons will let you know what's on the menu, if anything. Juan's Tacos "La Palapa", open air, beach front, best location, good tacos. You may take your catch to Juan for preparation. El Caballero, Tito's and Juan's Tacos are owned and run by local Mexican families. Nancy's offers a varierity of Mexican and American food very romantic.
The residents here dig wells or truck water in, get their power from solar panels or generators, and rely on a rough dirt track for contact with the outside world. The pioneer lifestyle, and a natural wonder: a living coral reef, one of only three in the eastern Pacific. Divers here can see as many as 200 species of tropical fish, as well as sea lions, bat rays, huge oarfish, and columnar schools of Mexican hogfish.
According to Pepe Murrieta owner of Pepe's Dive and Activities Center whale sharks have come as close as 100 feet from shore, and last season a school of hammerheads nested beside one of the reefs. The sites are never very crowded; even at the peak season around Easter you'll see no more than a dozen divers at once. And since most of the sites are shallow, snorkeling is also quite good here.
You can explore Cabo Pulmo's landscape via several other means as well. Experienced kayakers will want to paddle the series of small scalloped bays that terminates at Los Frailes Point and its sea lion colony. (Beware the strong currents that start a quarter-mile offshore during windy winter months; remember that you're quite near the open ocean.) If you've brought your own gear you can also windsurf; Cabo Pulmo.
Every fall during hurricane season, surfers hit town and head for the break at Boca de Tulas, about 20 minutes south of Los Frailes. Back on land, hikers and mountain bikers can wander among the willows, wild figs, and palms shading the foothills that rise between the arroyos curving down to the gulf. Stop by Pepe's, aside from being the only responsible dive center, Pepe also offers a two-hour guided hike to an ancient Pericue petroglyph site. Along the faint trails, test your recognition of herbs long harvested by the locals: oregano, sage, mistletoe, and damiana, the last used in lieu of triple sec to make "Baja margaritas." In many ways, Cabo Pulmo is a little-changed land of rare beauty less than 90 minutes from the franchise terrorism of Los Cabos.
Water Temperature 75 Degrees
Visivility 50 feet
Lot of Manta Rays Jumping all over like flying Birds !!!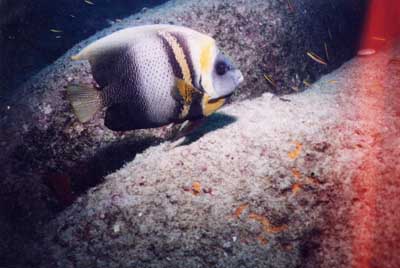 HIGHLITES!!!!!